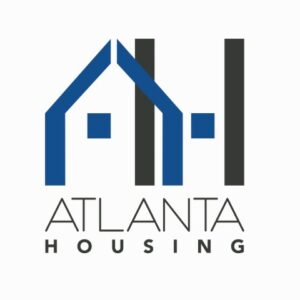 Atlanta Housing, Integral Partnership
Delivers More Affordable Units
September 26, 2023
ATLANTA – Today, Atlanta Housing (AH) and its development partner Integral celebrated the groundbreaking of Ashley II at Scholars Landing. Spanning 5.9 acres on the grounds of the former University Homes public housing community, Ashley II is the largest and final rental phase of the transformative Scholars Landing masterplan to close under the $30 million Choice Neighborhoods Implementation Grant (CNIG) awarded to AH and the City of Atlanta by the U.S. Department of Housing and Urban Development (HUD).
This momentous occasion was commemorated in tandem with the grand openings of Ashley IA/B, and The Vine at Scholars Landing, two mixed-income developments comprised of 135 and 72 units respectively. The celebration, which took place onsite, opened with remarks from Mistress of Ceremonies and President of Integral Vicki Lundy Wilbon, Mayor of Atlanta Andre Dickens, Deputy Secretary Adrianne Todman of the U.S. Department of Housing and Urban Development (HUD), and Commissioner of the Georgia Department of Community Affairs (DCA) Christopher Nunn.  The event ended with reflections and words of appreciation for a shared vision expressed by both Atlanta Housing President and CEO Eugene E. Jones, Jr. and Chairman and CEO of Integral Egbert L.J. Perry
The groundbreaking of Ashley II and the celebratory grand openings mark a significant achievement in affordable housing development in Atlanta.  Ashley II will include 212 multifamily rental units comprised of one-, two-, three- and four-bedroom apartments with sweeping views. Aligning with Atlanta Housing's commitment to creating inclusive, vibrant neighborhoods that promote diversity and opportunity, over half of these units will be affordable. An announcement was also made kicking off the partnership's impending project, The Towns at Scholars Landing, which will feature 40 luxurious townhomes and 36 flats ideal for those seeking to invest in a permanent residence and build generational wealth.  Twenty percent of these will be affordable to those at or below 80 percent of Area Median Income (AMI).
"Atlanta Housing is proud to collaborate with the City of Atlanta, HUD, the Georgia Department of Community Affairs and Integral to bring Ashley Scholars Landing Phase II to fruition," said AH President and CEO Eugene E. Jones, Jr. "This milestone demonstrates our shared commitment to creating thriving, inclusive communities that offer residents access to safe, quality housing and a brighter future."  Under the Choice Neighborhoods Grant, aimed at transforming communities and enhancing the lives of residents, 267 rental units have already been successfully delivered, of which 82 percent are affordable.
Key Highlights of Ashley Scholars Landing Phase II:
1. Affordable Housing Units: Ashley Scholars Landing Phase II will introduce 212 multifamily, mixed-income rental units across five distinct buildings, diversifying the housing options available in the community. This development will serve as a model for bridging the gap between affordability and quality housing.
2. Redevelopment Continuum: Ashley Scholars Landing Phase II is part of an ongoing redevelopment continuum that encompasses previous phases such as Veranda at Scholars Landing, Oasis at Scholars Landing, Ashley Scholars Landing Phase IA/B, Ashley Scholars Landing Phase IC, and Atlanta Housing's $12 million renovation of the historic Roosevelt Hall as a re-imagined community-serving facility. This comprehensive approach ensures the holistic transformation of the former University Homes public housing site.
3. Community Impact: Beyond providing much-needed affordable housing, this project also includes remedial site work and public improvements that will uplift the entire community. It is a testament to Atlanta Housing's dedication to fostering positive change in the neighborhood.
ABOUT ATLANTA HOUSING
Led by President and CEO Eugene Jones, Jr., the Housing Authority of the City of Atlanta, Georgia (AH), is the largest housing authority in Georgia and one of the largest in the nation. AH provides and facilitates affordable housing resources for nearly 27,000 low-income households comprised of approximately 45,000 people, including AH-owned residential communities, tenant-based vouchers, supportive housing, and homeownership opportunities. Programs are funded and regulated by the U.S. Department of Housing and Urban Development.
Visit AH at atlantahousing.org or follow us on Instagram, Twitter and LinkedIn at @housingatlanta.